Read Time:
1 Minute, 20 Second
Radical changes have been made to Chaos Trivia
Music and sound blips have been added. These can be turned on and off.
You can now save your progress and attempt to beat your high score at a later date
Chaos Trivia now shows you what category you are in – The whole thing about this game is that you can not select what questions or question types are displayed as they are done in a random fashion. However, I added in the category feature so that you know if you want to attempt to answer the question or skip it in hopes of a better question that you know the answer. The category feature is aesthetic only and serves no purpose other than to inform you of what the question type is, however this does not mean I stayed strictly to the categories that most humans are used to seeing, there are some pirate questions that have the Category of "Arrr" and not "Pirate"
In the next update under the "Credits" menu it will say what version the game is.
For the actual design premise of the game that is pretty much the completion of the overall look and feel of Chaos Trivia – this is not to say that the game is complete. We have partnered with a person who has provided us with many, many questions and answers and of whom will continue to provide us with more questions and answers in the future.
From this point forward every week we will be adding a minimum of 100 questions to the game.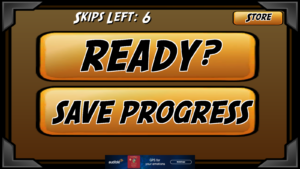 Have fun and good luck.